Regular price
Sale price
$43.00
Unit price
per
Sale
Sold out
DIY WAX CARVING KIT
Create your very own ring from the comfort of your home? Just you, or together with a friend? Or maybe you fancy a creative moment with yourself on a summer evening or while you are on holiday? Bring this Kit along and carve out some time to make your own design and self made ring. There is no time limit, you can carve as long as you need to perfect your unique ring. This DIY Kit includes all the materials, tools and instructions to design and create your ring from jewellers wax using the ancient technique called 'Lost Wax Casting'.
This might just be the start of a new hobby or maybe even a career!
You do the sculpting and carving, and I do the casting and finishing. Within a few weeks you get to wear your unique ring in your chosen metal.
What is included in the DIY Kit? 
NOTE; all text in booklets/forms included are in Dutch. An English version is in the making but can be send by PDF.
2 blue wax rings (8mm wide) made to size S, M, L, XL or your perfect size (send me a message or add a note while you check out). One of the wax rings is for practice and one is for casting. If you love your 2nd wax ring and wish to cast it too, there will be an additional cost of Euro 98.
Wax file with flat and round surface, to shape and fine your ring
Scalpel cutter, to model your wax
Thumb protector
Ring sizer (to measure your ring size)
3 kinds of sanding paper, to smooth your ring surface
2 kinds of lolly pop sticks, for easy sanding
Tin can to safely return your wax ring to be casted
Return form to specify your ring size, metal, finish and delivery destination
Description booklet to guide you through the process of carving your wax ring
Sketch paper to visualise your design
Shipping the final ring to you beautifully wrapped
The DIY Kit includes all tools for making your unique wax ring. Depending on your choice any additional cost like casting your ring in recycled Silver or 14k/18k Gold Plated, Solid Gold ring is either pre-paid or can be noted on your return form. I will then send you an invoice when I receive your finished wax in the mail. Your ring will be casted and/or plated once the payment is received.
Please choose your approximate ring size (small, medium, large, extra large) from the product options or your exact size using the ring sizer. If you are unsure which size to choose you can order a ring sizer here, so you can order your perfect size.
*Due to the fluctuating price of silver, your DIY Kit must be used within 6 months after purchase. You must be over 18 years old to use this product due to the scalpel cutter included in your DIY Kit. On the rare occasion that rings have not been carved and send back or there is concern over impracticality of the wax, your wax ring will be returned for more carving.
Before purchasing a DIY Kit make sure to read the DIY Kit page for more information and how it works. Here you will find answers to the most common questions, like which size you would need, how it works, how long it takes, metal options for casting etc.
Be sure to also read the FAQ page for even more information.
Currently we only ship this DIY Kit to the Netherlands, Germany and Belgium. If you life in another country and would like to have this DIY Kit shipped to you, please be in touch. (all booklets are in Dutch, English version is in the making)
Share
View full details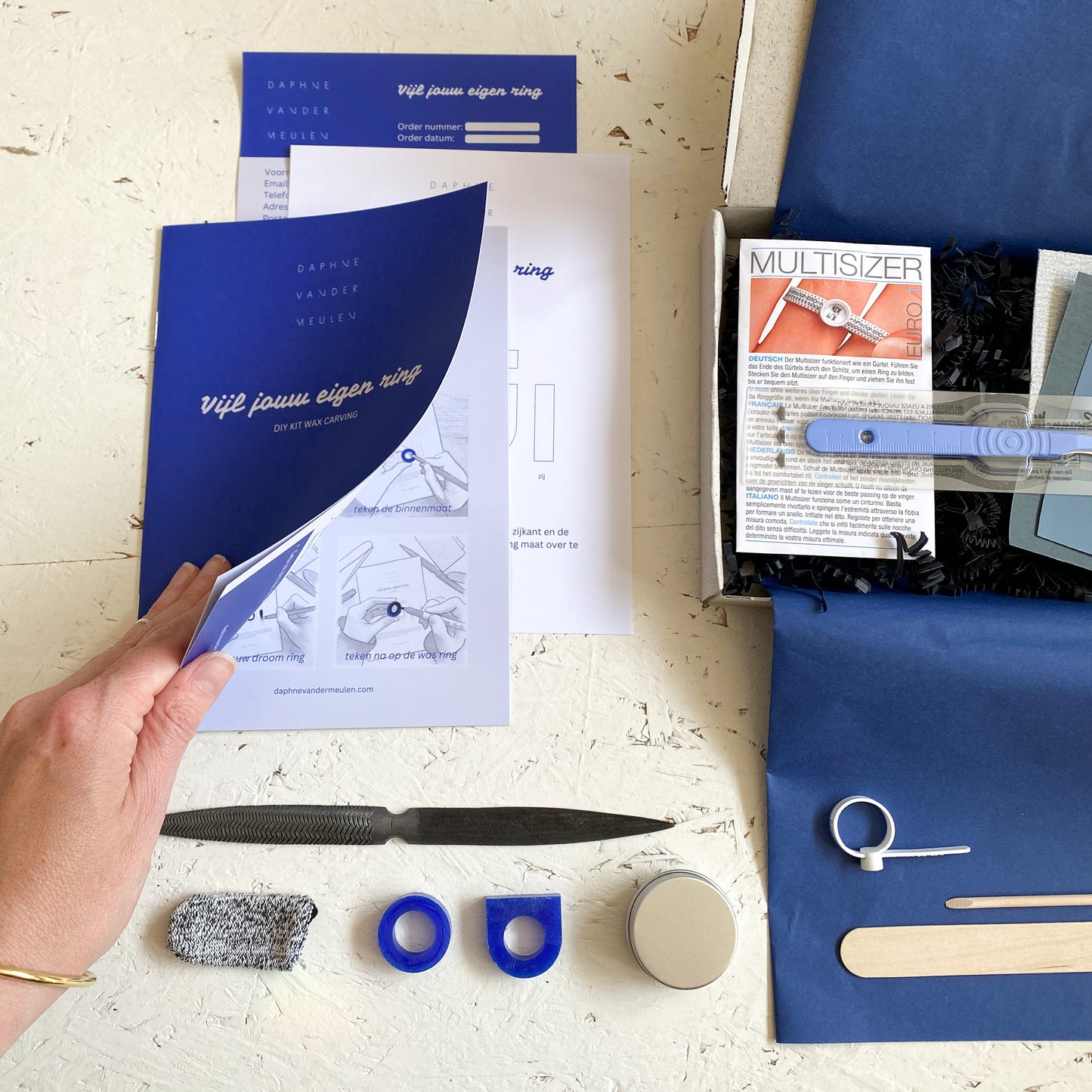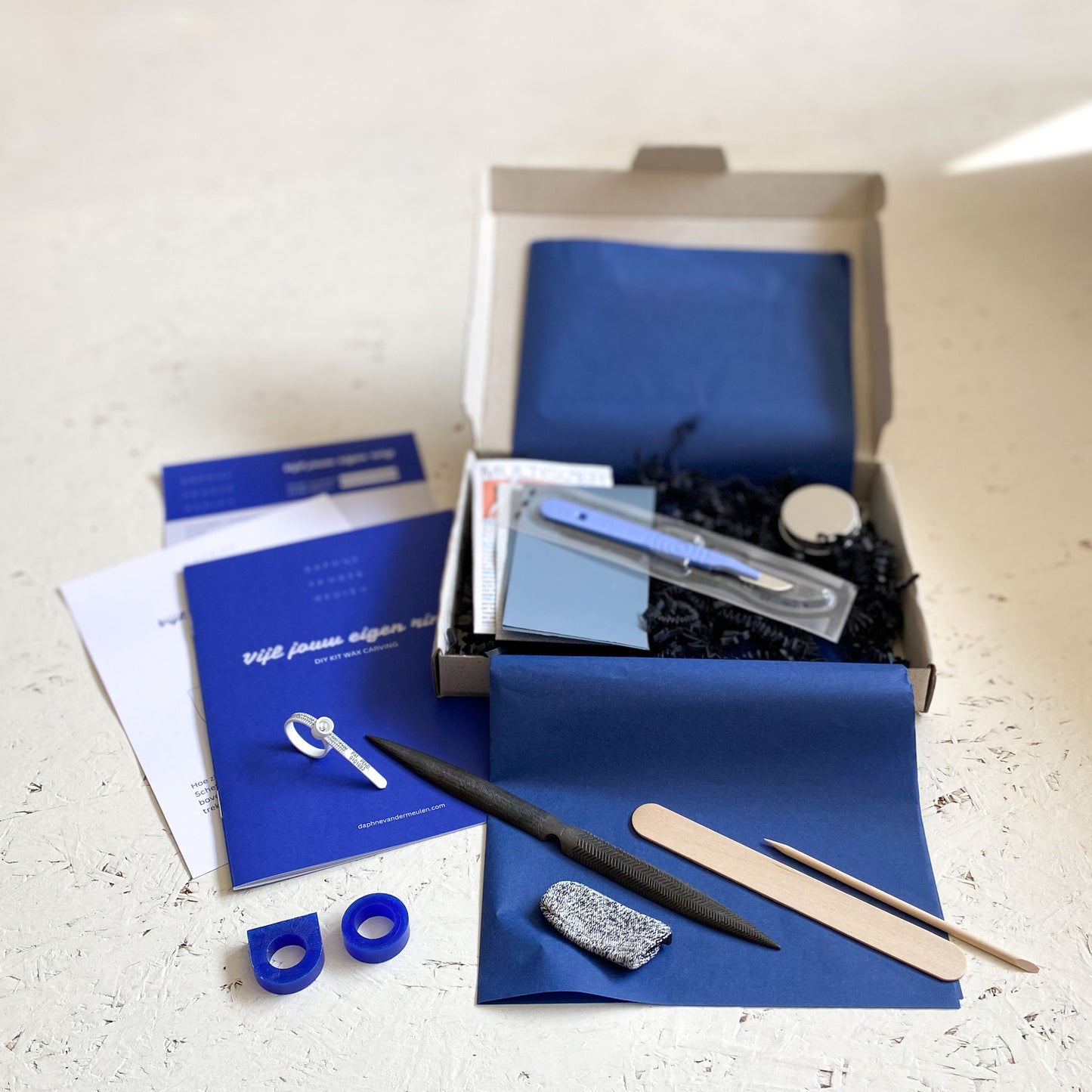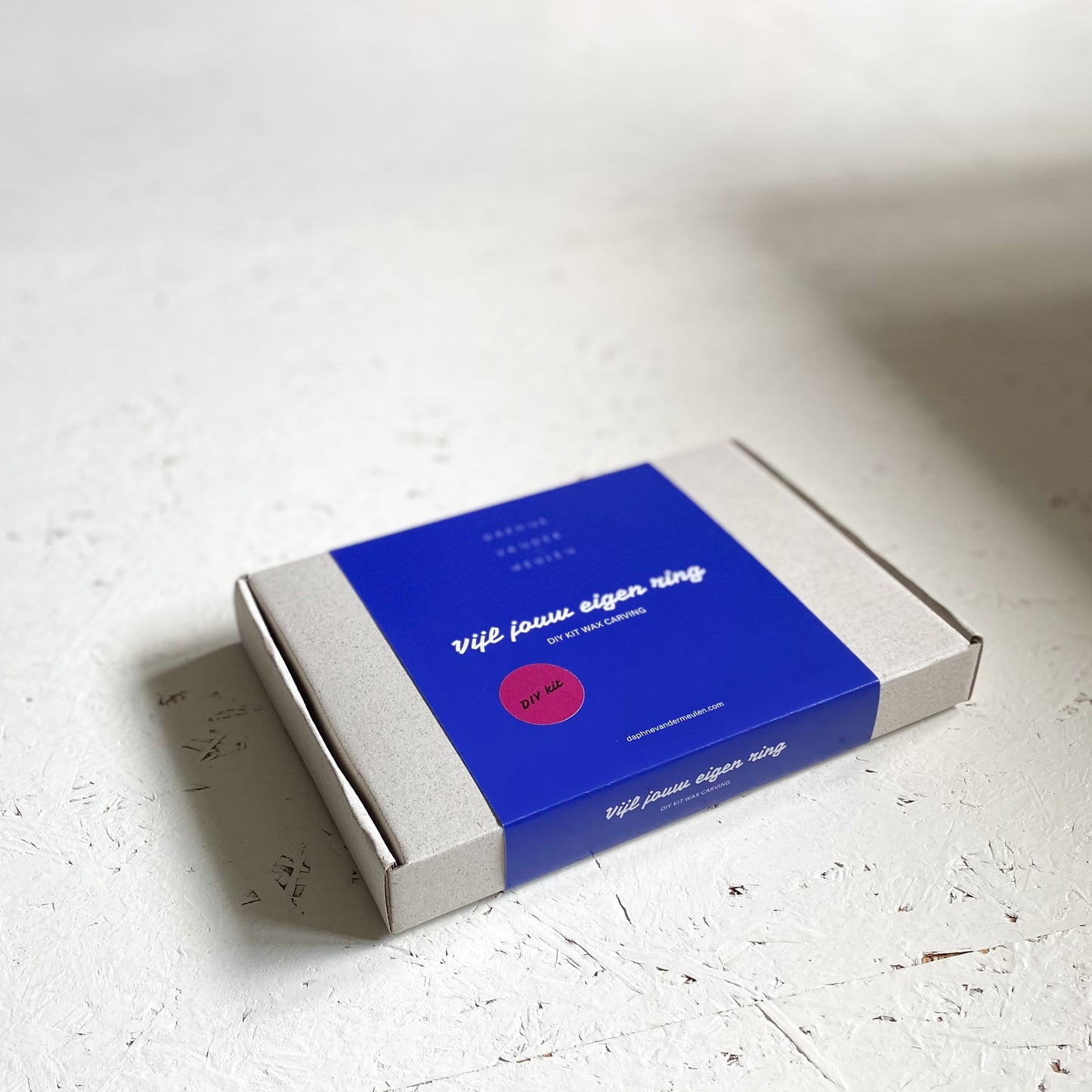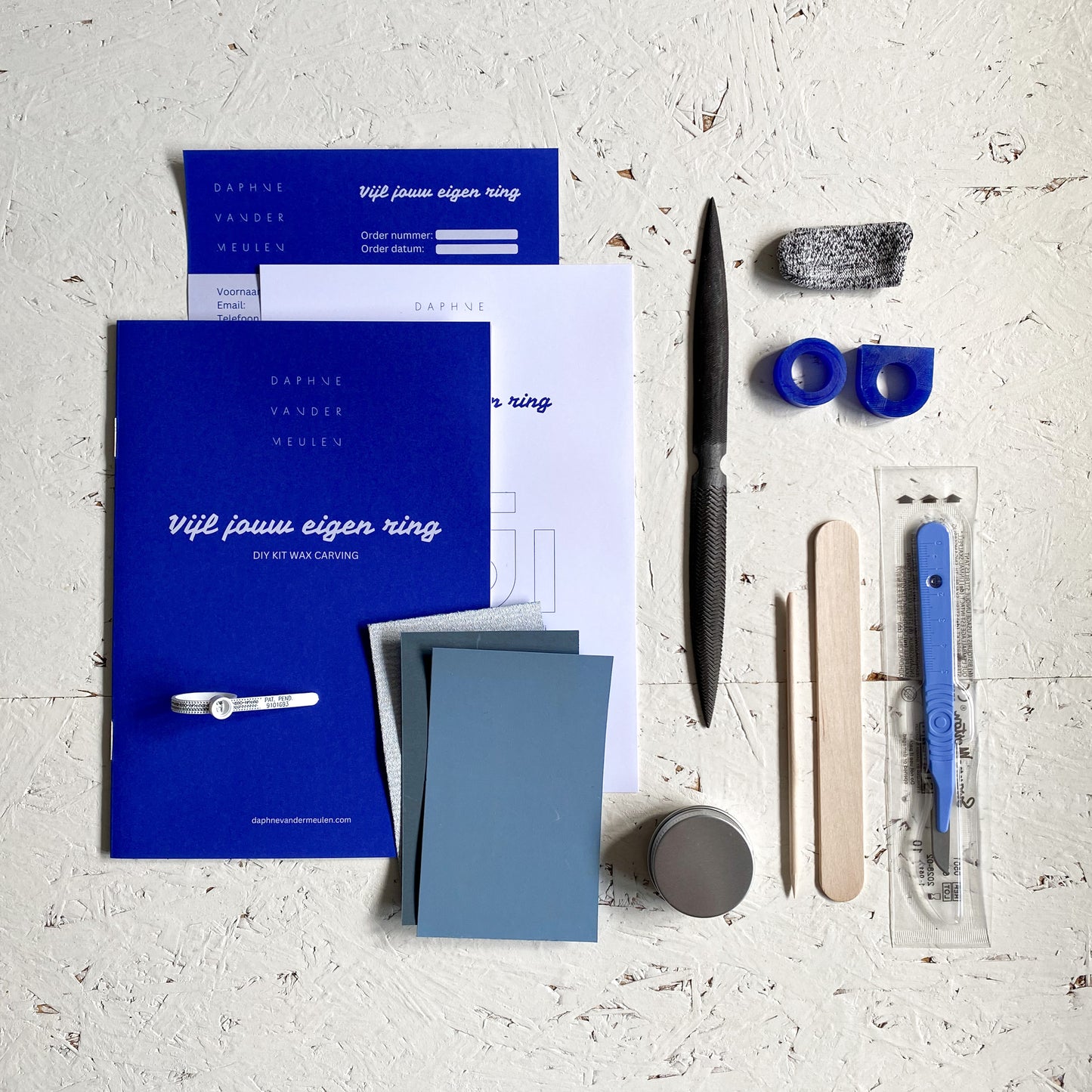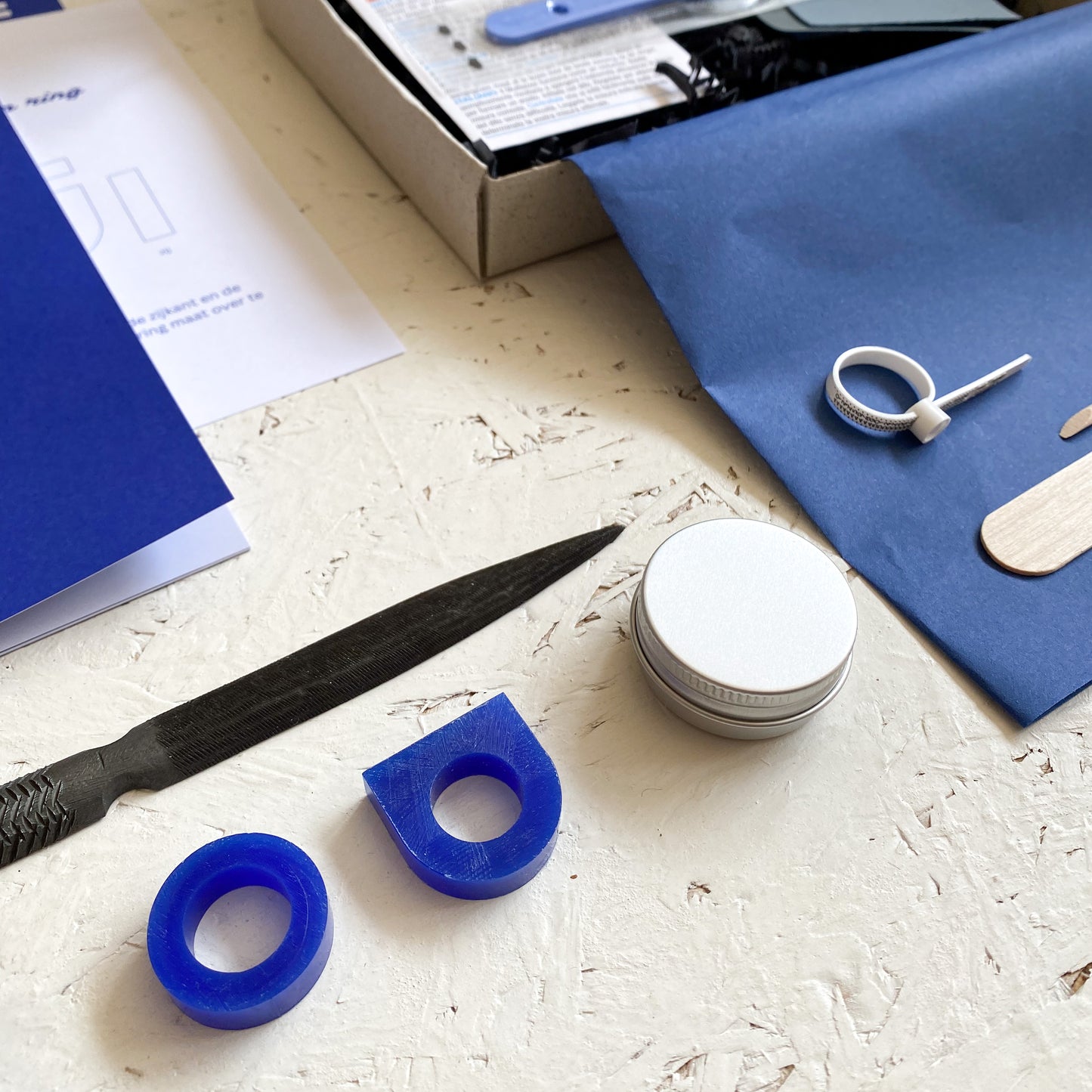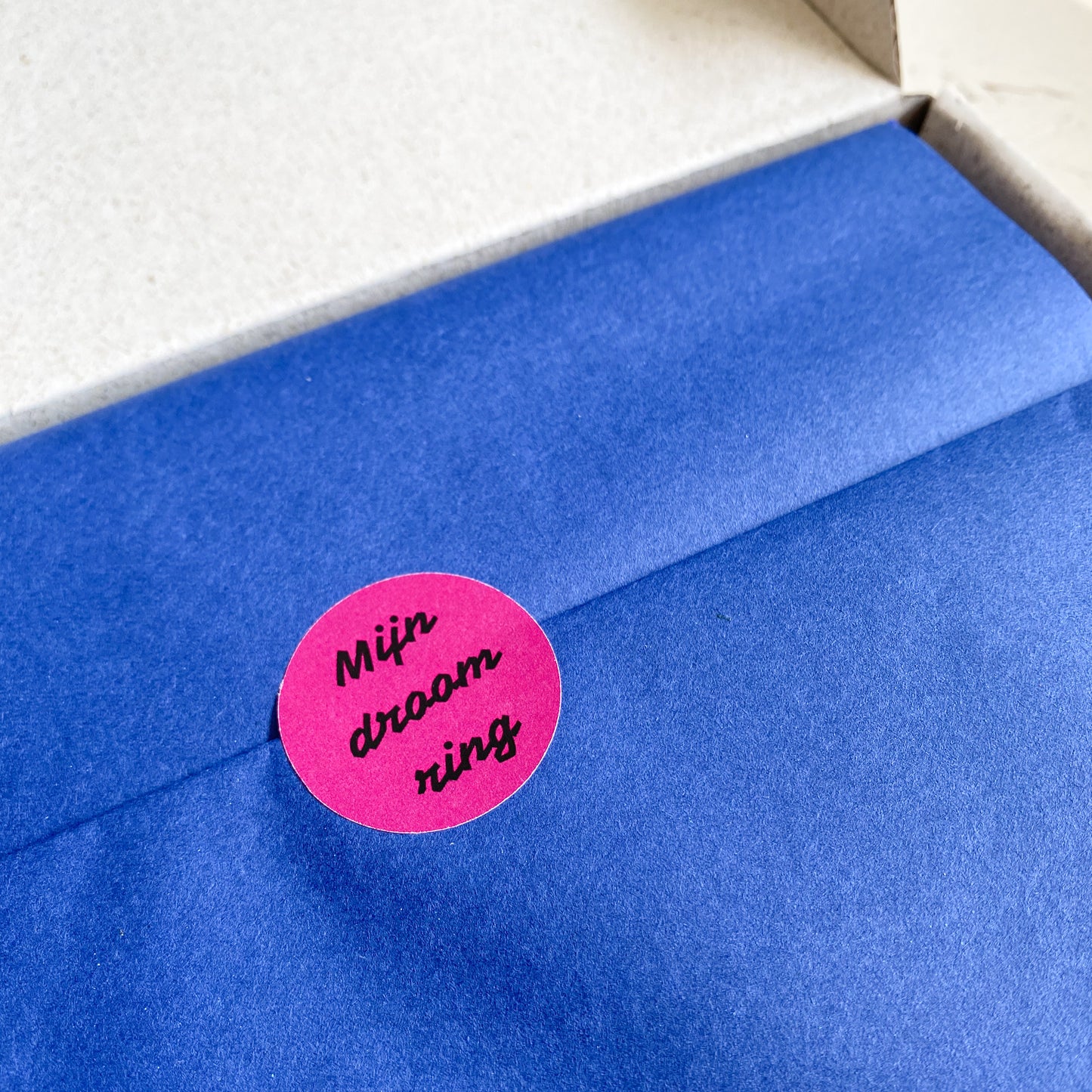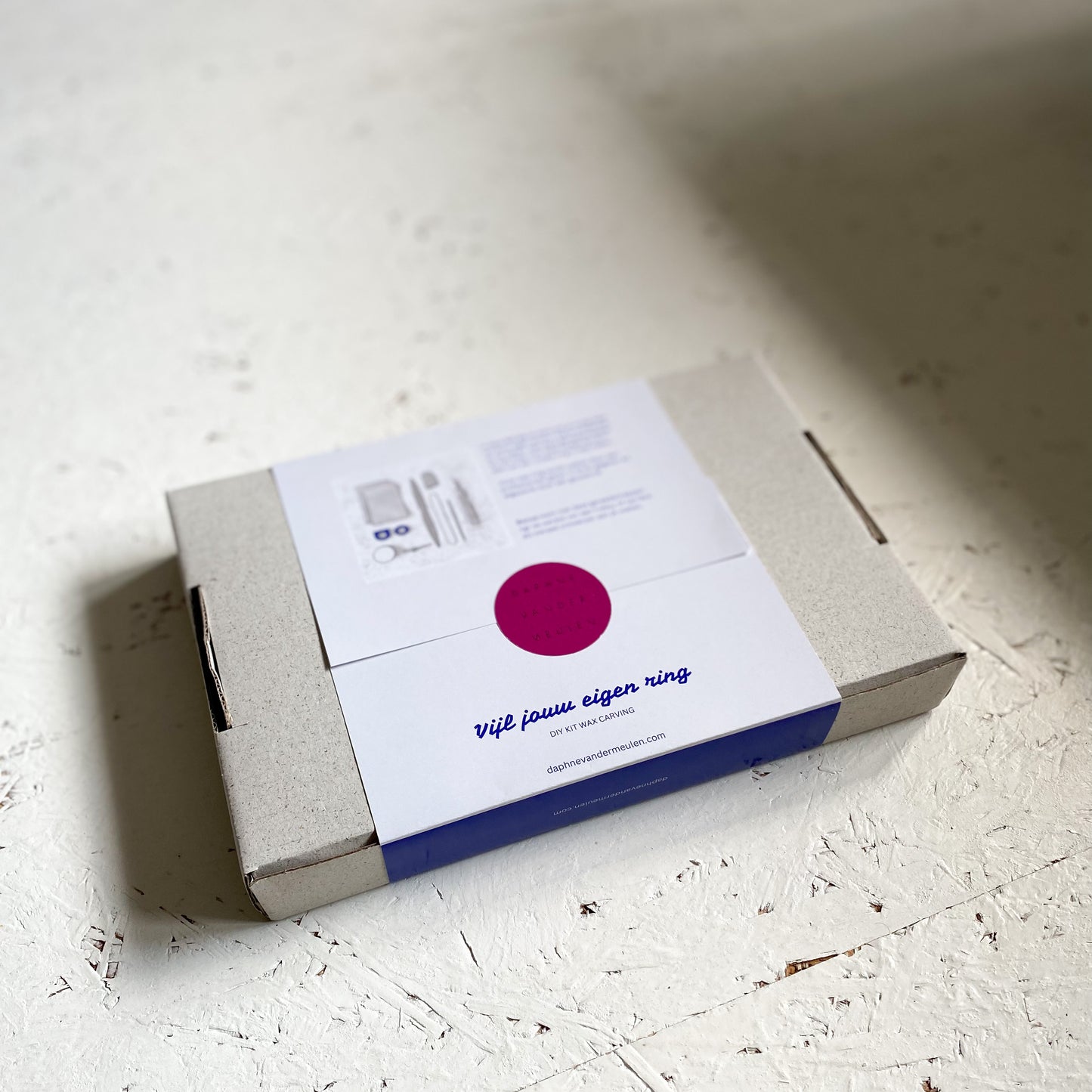 Reviews
Els -

This Workshop opened up a whole need world of creativity for me. It was susch a pleasure to meet you and be guided through the evening. I cherish my ring and I will come back for another class for sure!

Sophie -

I had a great time and I totally forgot time while I was carving away. The best thing was that I could make my own design, and Daphne was very helpful in making that happen. Now I am super proud of what I made and I love wearing my own creation. Thank you Daphne!!

Emma -

I came together with my friend, she gave me this Workshop as a present and I am so thankful. I now not only have a beautiful ring that I made myself but also a very nice memory. I love Daphne's work and everything was taking care off. If you will host the signet ring class I will join again (and invite my friend)